THE BULDING A KNOWLEDGE BASE AND ITS INTERNAL RULES FOR AN EXPERT SYSTEM FOR DIAGNOSTIES A GAS PUMPING UNIT
N. G. Shyrmovska

IFNTUOG; 76019, Ivano-Frankivsk, Karpatska str., 15

G. I. Levitska

IFNTUOG; 76019, Ivano-Frankivsk, Karpatska str., 15

Ya. I. Zayachuk

IFNTUOG; 76019, Ivano-Frankivsk, Karpatska str., 15

I. R. Mykhajluk

IFNTUOG; 76019, Ivano-Frankivsk, Karpatska str., 15
Keywords:
expert system, intellectual technologies, diagnostics, knowledge database
Abstract
The article proposes the development of an expert diagnostic system, namely, the construction of a knowledge base and internal rules for assessing the condition of the gas pumping unit by the parameters of vibration. The choice of environment for the implementation of the expert system was carried out. On the basis of the performed researches of failures and defects of the gas pumping unit, the method of diagnosing those defects were proposed, and also the conditions to determine the normal state of the functioning of the installation were formulated. When developing the expert system, a general structure, the construction of a knowledge database, and the construction of internal rules for the diagnosis of the gas pumping unit were proposed. The rules of construction of the expert systems with variable values ​​were considered. The determination of the technical condition of the unit using vibration parameters is made both by the content of the relevant information at the time, and on the basis of analysis of its change over the time. An expert system was offered that provides an analysis of transitional states of control objects, also describes the knowledge base and the number of rules that are used for conclusions of the expert system.
Downloads
Download data is not yet available.
References
Верба В. Проектний аналіз: Підручник. / В. Верба, О. Загородніх. – К.: КНЕУ, 2000. – 322с.
Заміховський Л. М. Проектування систем діагностування: Навч. посібник. / Л. М. Заміховський, В. П. Калявін. − Івано-Франківськ: Полум'я, 2004.− 248 с.
Николайчук Я. М. Проектування систем діагностування. Навчальний посібник / Николайчук Я. М., Возна Н. Я., Потух І. Р.– Тернопіль: ТзОВ: «Терно-граф», 2010. – 392 с.
Локазюк В. М. Контроль і діагностування обчислювальних пристроїв та систем: Навч. посібник для вузів. / Локазюк В. М. – Хмельницький: ТУП, 2001.− 242 с.
Заміховський Л. М. Вибір раціональної діагностичної ознаки для контролю технічного стану відцентрових насосних агрегатів системи підтримання пластового тиску / Л. М. Заміховський. Ю. В. Паньків // Східно Європейський журнал передових технологій. – 2008. – № 32. – С. 58–61.
Sebastian Costel Mustata, Dragos Dracea, Augustina Sandina Tronac, Nicoleta Sarbu, Elena Constantin. Diagnosis and vibration diminishing in pump operation. International Symposium on Intelligent Manufacturing and Automatio. 2014. № 25. 970–976 p. doi: 10.1016/j.proeng.2015.01.456
Michael Robichaud J., Eng P. Reference Standards for Vibration Monitoring and Analysis. Bretech Engineering Ltd, 2011. 90 p.
Сундуков Е. В. Проблемы измерения и норми¬рования общей вибрации энергетических установок на базе авиационных ГТД / Е. В. Сундуков // Труды международной научно-технической конференции. Сер. Вестник Самарского государственного аэрокосмического университета имени академика С. П. Королева. Самарский государственный аэрокосмический университет имени академика С. П. Королёва. – 2003. С. 202–205.
R.R Yager, L.A Zadeh An introduction to fuzzy logic applications in intelligent system. Springer Science & Business Media, 2014.- pp.27-44.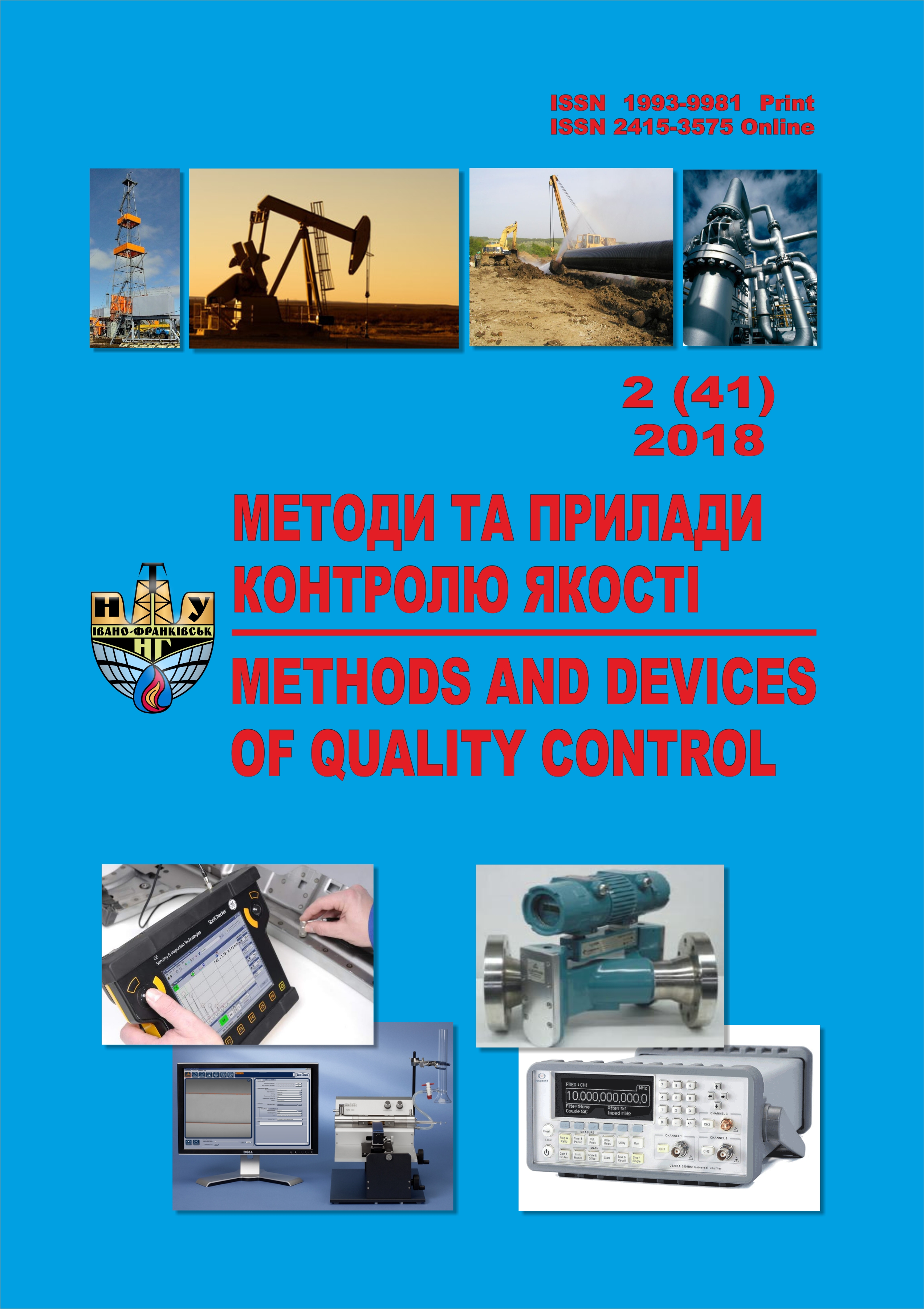 How to Cite
Shyrmovska, N. G., Levitska, G. I., Zayachuk, Y. I., & Mykhajluk, I. R. (2018). THE BULDING A KNOWLEDGE BASE AND ITS INTERNAL RULES FOR AN EXPERT SYSTEM FOR DIAGNOSTIES A GAS PUMPING UNIT. METHODS AND DEVICES OF QUALITY CONTROL, (2(41), 5-17. https://doi.org/10.31471/1993-9981-2018-2(41)-5-17
Section
METHODS AND NON-DESTRUCTIVE CONTROL