ON THE STRUCTURE OF EUTECTIC SYSTEMS MELTINGS: THEORETICAL ASPECTS OF MODEL REPRESENTATION OF THE LIQUID STRUCTURE DESCRIPTION
Keywords:
eutectic, model representation, description of liquid structure, eutectic system, melt
Abstract
In the offered article theoretical researches of eutectic systems are systematized, connection of results of these researches with model representation of the description of structure of a liquid for the purpose of the further practical realization is allocated. This study is relevant because there is no generalized and systematic information on the study of the structure of melts of eutectic systems. On the one hand, this is due to certain contradictions in some studies. However, the main problem is the ambiguity and inconsistency of interpretation of the results of studies of the structure of melts. The authors note that in solving problems related to the nature of the liquid state, of particular interest is the study of the structure of two-component melts, which form in the solid state phase equilibrium diagrams of the eutectic type. The term eutectic means "most fusible" and is used to describe an isothermal reversible reaction in which a liquid decomposes into two or more solid phases during cooling. It is proposed to make judgments about the structure of metal melts of eutectic systems according to the type of liquidus line of the phase equilibrium diagram. To do this, all eutectic systems are divided into: systems with a smooth liquidus line without an inflection point in either the pre-eutectic or the supereutectic region (NI); systems with an inflection point on one branch of the liquidus line; systems with an inflection point on both branches of the liquidus line; systems with a eutectic point near the zero concentration of one of the components and an inflection point on the liquidus line (0% SI). Based on the generalized and systematized results of theoretical and experimental studies, it is proved that eutectic systems are polygenic systems that have a wide range of interactions between particles and, accordingly, have a short-range structure. This information can make it possible to unambiguously interpret the results of diffraction studies and physicochemical analysis data to create a model representation of the description of the structure of the liquid (melt).
Downloads
Download data is not yet available.
References
Danylov V.Y. Stroenye y krystalycheskaia zhydkost, K., 1956 r. 568 s.
Loboda P.I., Bohomol Yu.I., Yermolenko D.Iu. Mekhanizm zmitsnennia spriamovano armovanoho evtektychnoho splavu LaB6-ZrB2 v shyrokomu intervali temperatur. Metaloznavstvo ta obrobka metaliv. 2011. № 2. S. 45–53.
Skryshevskyi A.F. Renthenohrafyia zhydkostei. K., 1966, s.123
Dutchak Ya.Y. Renthenohrafyia zhydkykh metalov. Lviv: Vyshcha shkola,1977, s.162
Louzguine – Luzgin D., Inoue A., Yavari A. R., Vaughan G. Thermal expansion of a glassy alloy studied using a real – space pair distribution function. Applied Physics Letters. 2006. V. 88. P. 23 - 26.
Bilyk R., Liudkevych U., MudryS. Structure and short range order of liquid gallium. Physico -Mathematical Modelling and Informational Technologies. 2017. V. 25. P. 7- 13. 81.
Bartieniev H.M. O stroenyy zhydkykh evtektycheskykh splavov. YMET AN SSSR, 1959 s.93
Verman A.A., Samaryn A.M., Yakobson A.M. O stroenyy zhydkykh evtektyk. Metallurhyia y teplo, 1960, №3, S. 17.
Abrykosov N.Kh., Hlaholeva N.N., Chyzhevskaia S.N. Yssledovanye rosplavov evtektycheskykh system. Neorhanycheskaia khymyia. T.5, №12, AN. SSSR,1969r.
Kurnakov N.S. Yzbrannыe trudы. t. 1, M.: Yzdatelstvo AN SSSR, 1960
Yatsenko S.P., Kononenko V.Y. Osobennosty yzmenenyia viazkosti i elektrosoprotyvlenyia binarnykh systemakh razlychnoho typa. Fyzyka y khymyia. 1969, t.43. №1. S 89-94.
Dutchak Ya.Y., Frenchko V.S., Zaikyn V.M., Kuznetsova L.S. O kharaktere atomnoho uporiadochenyia v ras plavakh systemy Zn-Sn. Fyzyka y khymyia. 1980, t.25. №3. S-514-515.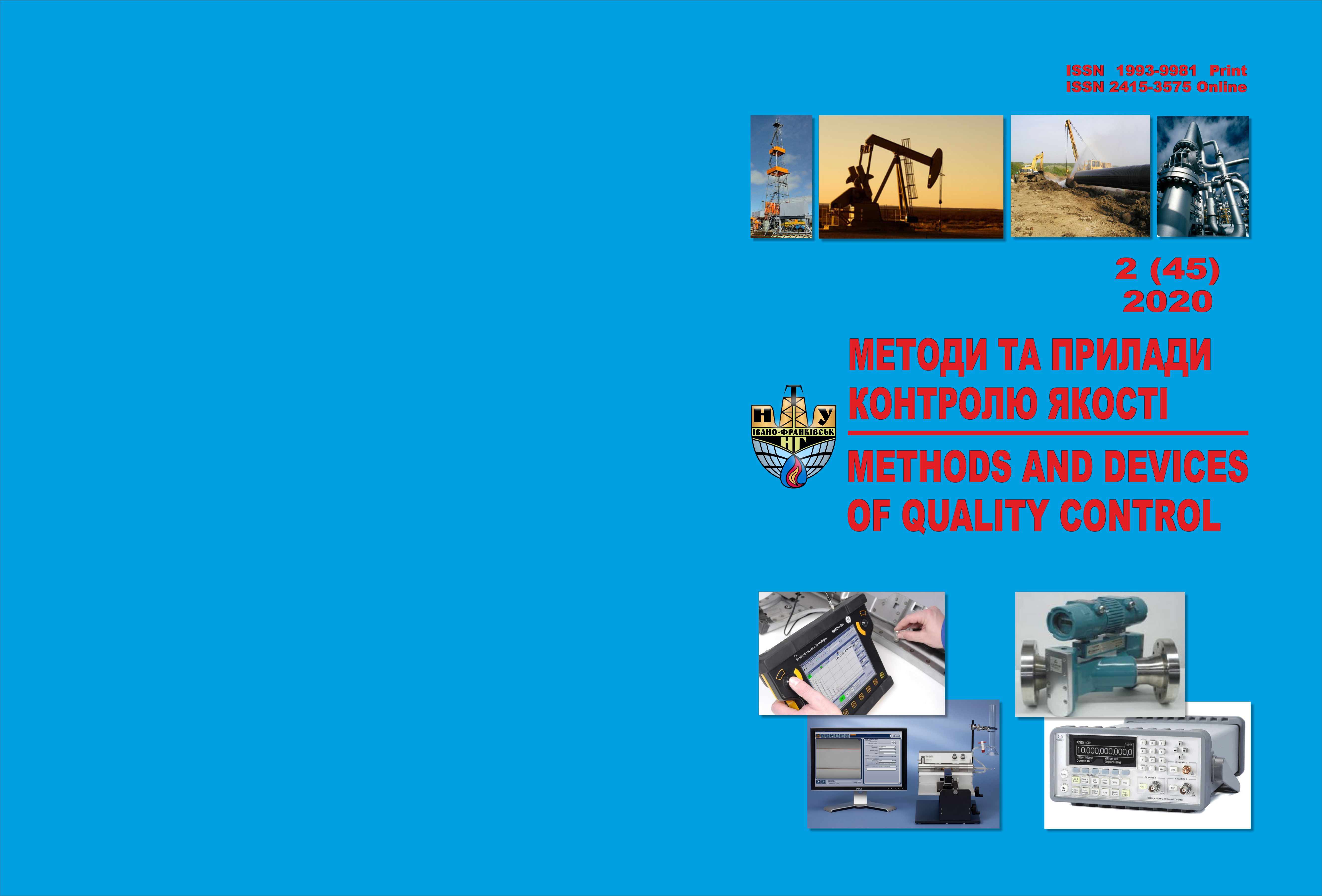 Downloads
How to Cite
Mykhailiuk, . I. R., Vavryk, T. O., Tsareva, O. S., & Podubynska, N. D. (2020). ON THE STRUCTURE OF EUTECTIC SYSTEMS MELTINGS: THEORETICAL ASPECTS OF MODEL REPRESENTATION OF THE LIQUID STRUCTURE DESCRIPTION. METHODS AND DEVICES OF QUALITY CONTROL, (2(45), 125–131. https://doi.org/10.31471/1993-9981-2020-2(45)-125-131
Section
MATHEMATICAL MODELLING FOR THE UNDESTROYED CONTROL PROBLEMS