DEVELOPMENT OF AN AUTOMATED SYSTEM FOR CONTROL OF ECOLOGICAL AND TECHNICAL CONDITION OF GPA
Keywords:
harmful emissions, gas pumping unit, compressor station, disturbance, control system.
Abstract
Obsolete equipment of compressor stations of linear production departments of main gas pipelines leads to their frequent breakage and increase in the number of harmful emissions during the operation of such compressor stations as combustion chambers of gas pumping units. In this paper, the features and classification of factors of harmful effects of operating gas pumping units on the environment are considered. The authors also analyzed the main modeling methods, hardware and software products that are used to monitor the environmental and technical condition of gas pumping units. The proposed system of monitoring the environmental and technical condition of gas pumping units - an automated control system, which consists of two levels: the first level - lower, the main task of which is to collect data during the combustion chamber of the gas pumping unit using gas analyzers; top - processes these data, at the same time compares them with the maximum allowable concentrations of harmful substances. This system was developed using Siemens Simatic Step-7 software. The initial data for the development of an information system are pressure, temperature and carbon dioxide. Control of these physical quantities will allow to control their quantity, to minimize their harmful influence for the purpose of improvement of working conditions of operators, drivers on service of gas pumping units on line production departments of the main gas pipelines and for the purpose of reduction of negative impact on environment. The developed automated system successfully analyzes the data in real time and allows to optimize the operating modes of the gas pumping units, reducing operating costs and reducing the number of harmful emissions from the combustion chamber of the gas pumping unit.
Downloads
Download data is not yet available.
References
Halimi D. Maintenance actions planning in industrial centrifugal compressor based on failure analysis / D. Halimi, A. Hafaifa, E. Boualie // Eksplotacja i Niezawodnosc – Maintenance and Reliability. – 2014. - №16 (1). – Р.17-21.
Il`chenko B. S. Diagnostuvannya funkcional`no-texnichnogo stanu gazoperekachuval`ny`x agregativ: monografiya / B. S. Il`chenko. – Xarkiv: XNAMG, 2011. – 228 s.
Parafejny`k V. P. Analy`z rezhy`mov robotы GPA s gazoturby`nnыm pry`vodom na stady`y` proekty`rovany`ya agregata / V. P. Parafejny`k, A. V. Smy`rnov, Y`. N. Tertыshnыj, A. N. Nefedov // Avy`acy`onno-kosmy`cheskaya texny`ka y` texnology`ya. – 2011. – # 9. – S. 25-32.
Kovaliv Ye. O. Opty`mizaciya roboty` gazoperekachuval`ny`x agregativ z rizny`my` ty`pamy` pry`vodiv / Ye. O. Kovaliv // Naftogazova energety`ka. – 2007. – #2 (3). – S. 80-86.
Kushkov V. M. Lyudy`no-mashy`nni interfejsy`: Konspekt lekcij dlya stud. napryamu 6.050202 – «Avtomaty`zaciya ta komp'yuternointegrovani texnologiyi» den. ta zaoch. form. navch. – K.: NUXT, 2012. – 100 s.
Kuchmystenko O. V. Syntez systemy keruvannia hazoturbinnym dvyhunom na bazi nechitkoi lohiky / O. V. Kuchmystenko, M. V. Shavranskyi, B. S. Nezamay, O. H. Malko// Metody i prylady kontroliu yakosti – 2021. №1(46) – S.53-62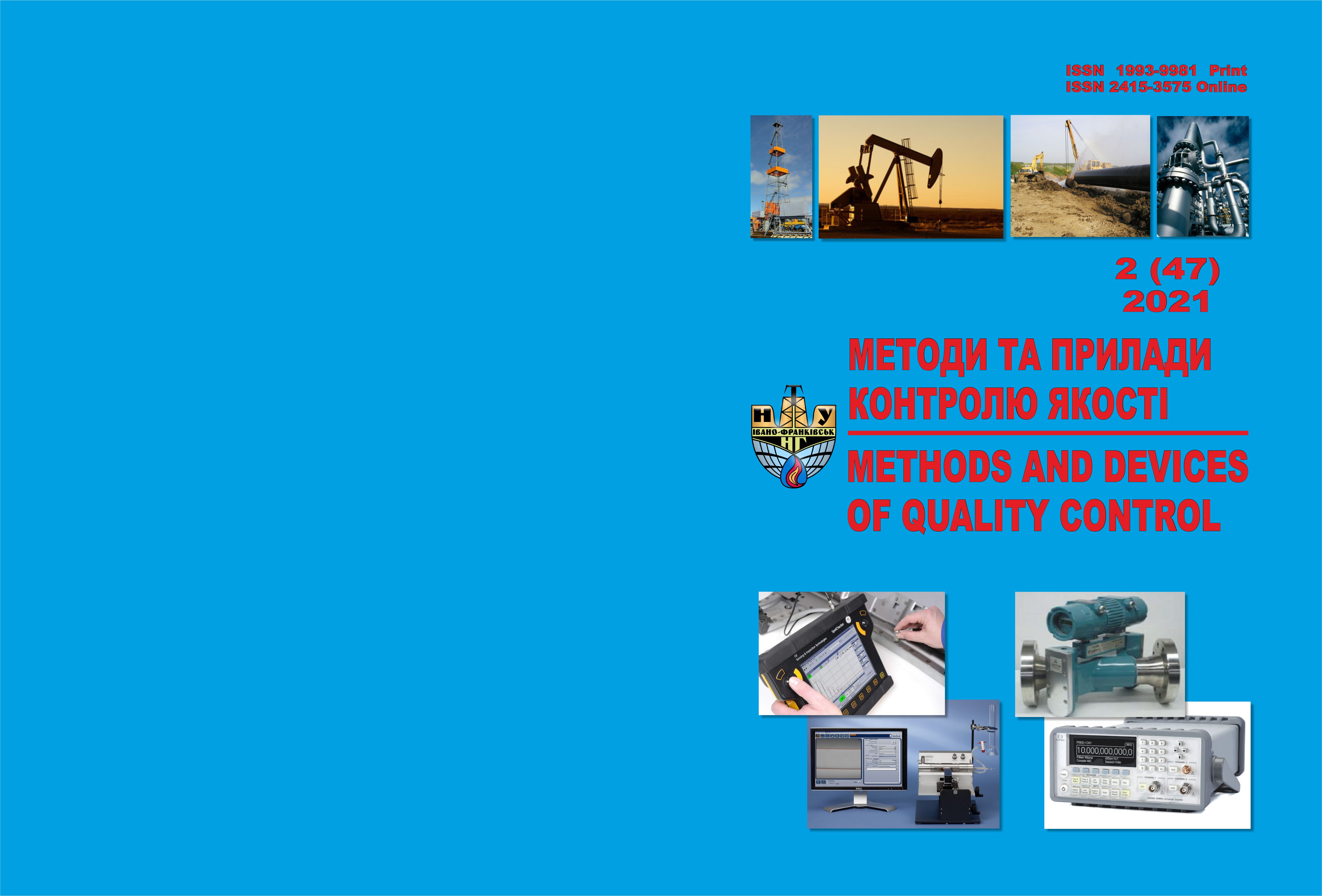 Downloads
How to Cite
Mirzoieva О. Ю., Belei О. І., Stasyuk Р. Б., & Kuchmustenko О. В. (2021). DEVELOPMENT OF AN AUTOMATED SYSTEM FOR CONTROL OF ECOLOGICAL AND TECHNICAL CONDITION OF GPA. METHODS AND DEVICES OF QUALITY CONTROL, (2(47), 55–61. https://doi.org/10.31471/1993-9981-2021-2(47)-55-61
Section
METHODS AND DEVICES FOR THE TECHNOLOGICAL PARAMETERS CONNTROL